July 29, 2021 Contemplating the El Camino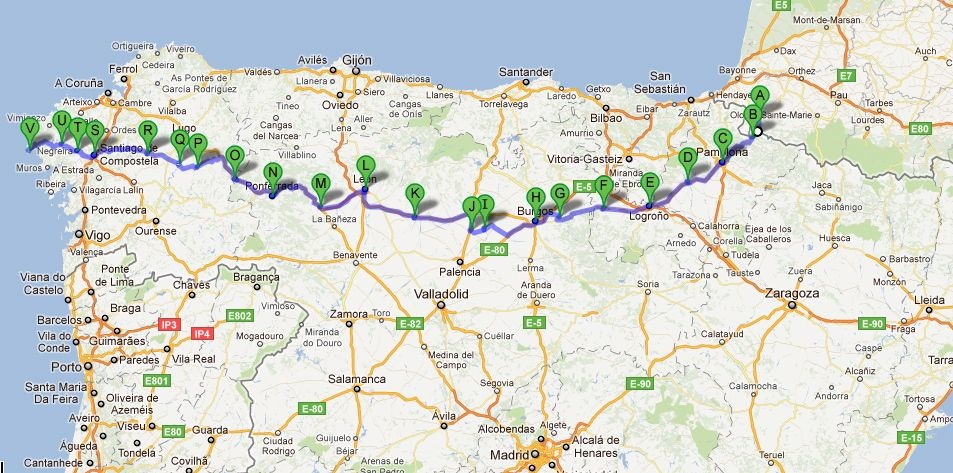 I've had it stuck in my head for five years, that I want to walk the El Camino. I don't even recall 'exactly' where this idea came from - how something moved from a fanciful conversation to a bucket list item. I know the roots, but cannot remember the precise journey it took. Back in 2016 I was invited to hike the West Coast Trail with my friend Jess and some of her friends. I had never been on any kind of an official hike before that one, and I have to admit, it was a doozy of an introduction to the hiking world. I can't say that I regret having done it, but I did regret not preparing for it, while I was hiking it, and the while I endured the pain afterwards. Because of that hike, I started to entertain the idea of other hikes, and one that kept coming up in conversations with people, was the ultimate hike - The El Camino. 778.5 kilometers (for the traditional french route) of beautiful European villages, landscapes, and exceptional architecture. Walked by hundreds of thousands of pilgrims every year, it is not a rugged, difficult hike such as the West Coast Trail, instead, it offers a deeply spiritual hike of endurance and inner reflection.
I think at first I became interested, because I heard other people talking about what an amazing experience it offers. I certainly had no idea what the religious or spiritual roots of the walk were. The El Camino didn't enter my heart through knowledge of it, it seems to have slipped in a secret back door somewhere, taking root in my mind, with no obvious reason of 'why'.
Just under two years ago, I began a serious quest to drop some weight, because of my last attempt at a challenging hike. Intending to hike the Iroquois portion of the Bruce Trail, in a two weekend end to end hike, I gave up after day one - 30 kilometers in one day. My knees were killing me and I couldn't keep up with the pace. When I finally finished late, late that afternoon, a kind, elderly man, complete with a tree branch walking stick, and old-man hiking hat, commented to me, "You know, extra weight makes these kind of hikes very difficult on the body". My face flushed red in embarrassment for a moment, but he was right... oh my dear lord he was bang on correct. And I swallowed his sentence, like a huge helping of humble pie. I didn't swallow it with self judgement or self criticism. I swallowed it with self compassion. Holding myself in compassionate thought, I sent love to every single pound of me, and I reminded myself that it's ok to not be in great shape. It's amazing that I'm sober, it's amazing that I'm alive, and if I struggle with my weight, I love the one who struggles with her weight. I don't love the weight, but I love the one who struggles with it. I'd rather eat a tub of ice cream, than drink a 12 pack of beer. But his words had an impact. And I had dreams. Many of those dreams required me to be in better shape than I was - things like the El Camino, Machu Picchu.
My goal to drop weight was rudely interrupted by the Covid Pandemic. With a sense of the humorously over dramatic, I spent the first month while locked away in my house, ingesting all the foods I would want to eat if the world really were coming to an end and the apocalypse was truly nigh. I knew it wasn't. I trusted the process. But it was fun to fly into apocalypse mode none the less and have a carte blanche great excuse to eat garbage foods! And so Captain Crunch cereal, Twinkies (I'd never had a Twinkie before the Apocalypse of 2020!), and ice cream filled my grocery store cart, while I settled into a full month of binging back every single pound I'd already lost.
Losing Weight. Take Two! In May of 2020 I got back on the wagon, and spent the next 14 months dropping the weight I needed to drop. As of today, July 29th, 2021, I'm very happy with my current weight, but am looking to drop five to ten more pounds to put me in prime shape for what I've decided I'm ready to do next year, the El Camino, end to end.
The El Camino! Holy smokes! I better start preparing.....
by, Tracey Rogers