August 8th 2021, Paying Attention to the Signs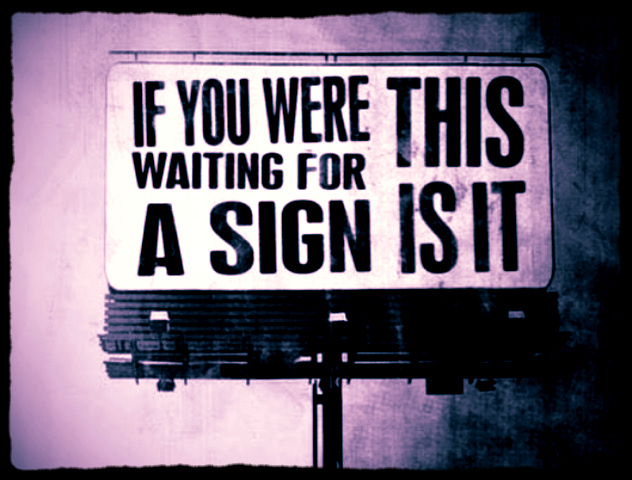 I have to chuckle at myself sometimes, and I do it with a fun spirit, no meanness. The Universe is continually putting large, clear signs in my path - sometimes I notice the neon flashing lights, and other times I walk right past, oblivious. My guardian angel slaps her forehead with the palm of her hand, as I waltz into another open manhole, while staring at the sky.
The truth of the matter is that the Universe is forever attempting to answer our questions, our dilemmas, our health concerns, our career problems, our relationship struggles and everything in between, by putting signs in our path. We have a problem, and the answer is put right in front of us - the only question is, do we have the eyes to see it, or the ears to hear it?
This past few weeks, I've been having some problems with my knees as I up my game with my walking, walking upwards of 4 hours a day. I am doing this to prepare for an 800km walk I plan to do next year, El Camino. My knees have been a weak spot for years. In 2016 they became a crucial problem when I was walking the West Coast Trail. What I learned on that trip was that walking poles are necessary when doing a lot of incline / decline walking, and slowing down is necessary.
Fast forward to this past week, when I had to call my husband in the middle of a 4 hour walk, to come pick me up when something made a grinding feeling in my knee and brought instant pain. Just two days before he and I had been watching the Men's 50km Racewalking Olympic event on television, and we both commented that it looked like a likely sport to cause serious hip and knee issues. The day before I hurt myself, Ron mentioned to me that this was the last year of the 50km Men's Racewalking event in the Olympics - they were cancelling it.
Now, had I been paying attention, this was the Universe dropping a very clear, neon sign in my path. Why, you ask? Because my entire life I have always been the fastest walker of anyone I know. Forever it is being said to me, "Holy smokes, you walk fast", and "Can you please slow down, you're walking too fast". Racewalking being cancelled, was like my guardian angel putting up a beautiful, flashing neon sign in my favourite colour (purple, of course) reading "NO MORE RACEWALKING TRACEY! SLOW DOWN!"
The day after I injured myself, I put on a knee-sleeve to protect my knee, and went out for a one hour walk. And partway through it, Eureka! I finally saw the sign, 3 days later! I need to slow down my walking, particularly on inclines, and declines. Nothing hurts my knee more than unconscious declines - and by that, I mean not paying attention to how heavy my feet are landing on a decline. Because of the hill, if we aren't paying attention, the feet land heavier on declines and more weight is put on the entire leg, including the knee. As soon as I saw the neon flashing sign that the Universe had been following me around with for days, I paid attention to the size of my strides, the speed of decline walking, and voila, I found the source of my knee troubles.
And so now, I'll be having a 800km walking meditation next year - paying attention to every step. Paying attention to every sign. Paying attention to every word that people speak to me. Because you know, the Universe is answering our questions and problems before they even arise, if we are willing to become more present in the 'now moment',  noticing the images and conversations happening around us.
by, Tracey Rogers