Motorcycles, Moose & Magic: The Ride to Self Love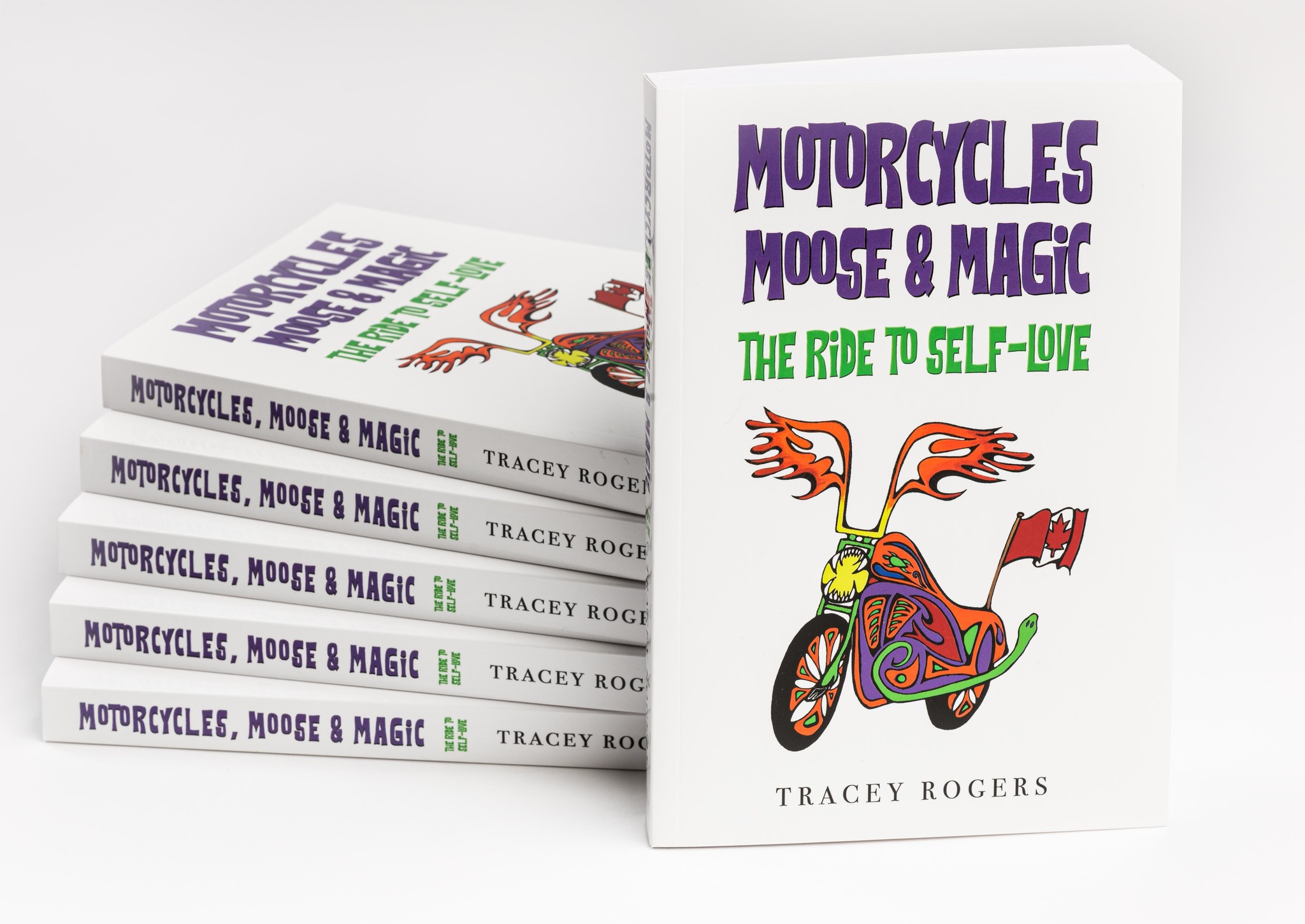 Thousands of women from around the globe rode in the Women Riders World Relay - each a testament to her own unique bravery. Tracey's courage has stretched across the pages of this book. It is a breath-taking, heart opening, journey to wellness ride of a lifetime. One that will inspire readers to be riders and to claim their own adventures! Ignite Us! Excite Us!

 
~ Hayley Bell, Creator of the WRWR
From the Back of the Book:
As she winds her way on her motorcycle through Northern Ontario, Canada, Tracey Rogers reflects on the most difficult periods of her life, courageously sharing how she overcame events that led her into the dark depths of self-loathing.
Rogers opens her life story like a wide-country road, revealing how she emerged from severe childhood trauma, and an incredible addiction odyssey through small towns in Canada, to big cities and beaches in the United States. This is the journey of Rogers' extraordinary life - a tale too unbelievable to be true, and yet, it is. As Rogers experiences people and places, she rises out of the darkness of her past and into the light of healing.
Motorcycles, Moose & Magic: The Ride to Self Love culminates with Rogers joining the Women Riders World Relay in Thunder Bay, Ontario, with dozens of kickass warriors on motorcycles, taking part in three days of the largest motorcycle relay in history.
Rogers is living proof that a life can change with curiosity, courage, faith, spirituality and self-love at the handlebars. Her life story is an inspiration to all those struggling with self-doubt and self-sabotage; to those searching for the courage to forgive and reinvent; and to those needing a how-to map of motivation to rewrite their self-love love story.
Pre-Release Praise for the Book:
I found myself in tears of happiness and devastation - and at times, disbelief and understanding as I rode along with Tracey and her motorcycle, Stella, while reading this incredible road trip. Memories triggered by music set the soundtrack, and the BRUTALLY honest self-reflection and observations sparked self-inventory of my own. I read this book the same way I listen to music. The images revealed in the words flowed generously like songs on an infinite mix tape. This is about running from your own identity ...to owning it - barrelling into it and celebrating the wreckage of one's past by realizing it wasn't wreckage at all. It's all part of the way home. Profound, and as hard-hitting as the music and memories that piece this story together - this powerful memoir is truly an intimate reflection and if you listen closely as you read, you'll see a bit of yourself staring back. A book you will revisit, book mark pages for future reference and maybe even crank some tunes to listen to as you read. Absolutely beautiful. "Inspiration! Move me Brightly". - Dan MacDonald
Motorcycles, Moose & Magic, lived and written by an inspiring & powerful woman, who rose from trauma and addiction to over come life's obstacles, fulfilling achievements through determination, healing and positive choices to inspire others that your past does not define your future - happiness with peace is possible." Lisa Valente, uPMedia
What an amazing journey of self-discovery, filled with so many "Awe" moments that read like a Spiritual GPS.  – Conni Ma'ingan, Urban Ndn Connection
A story so real it will reach every emotion. From the highest of highs to the lowest of lows. You are brought through a rollercoaster of emotion. Tracey Rogers is as real as it gets. Inspiring is the one word that comes to mind when I think of her." – Brandon Bailey, Founder of the Windsor Area Substance User Network and VP of CAPUD
In Motorcycles, Moose and Magic: The Ride To Self Love, Tracey Rogers shares her nearly half century life journey, a journey that is at times gut-wrenching, but mostly heart-soaring. She has compressed her decades of living, learning, failing, growing, and ever-evolving into a refreshing 12-step (day) program of self-reflection. A must read for everyone needing hope and direction in their personal journey to self love. – Joe McParland, Biz X Magazine
You'll gasp. You'll laugh. You'll cry. You'll write in the margins and you'll share quotes with your friends. Motorcycles, Moose & Magic: The Ride to Self-Love is Tracey's gift to us, to love, to the truth that is the brilliant transformation of the self.   – Vanessa Shields, Author of thimbles and Look At Her
336 pages, with 23 colour pages and photos at the back.
NOW FOR SALE!

Available for Curbside Pick Up in Windsor
$19.95
Shipping in Ontario: $10
Shipping out of Province: $15
Also Available on Amazon as Kindle, paperback or an Audible book.